PAUL GOLDSTEIN, Ph.D.
Dr. Paul Goldstein is a Full Professor of Toxicology, Forensic Science and Genetics. He is a Member of the American Society of Crime Lab Directors and the Society of Toxicology. Dr. Goldstein has published over 100 publications, book articles, and reports. He has received numerous honors and has served on national committees in Washington, D.C. He has testified in State and Federal Courts as an Expert Witness.
Dr. Goldstein provides evaluations and consultations for the Plaintiff and Defense. He is an Expert in Causation following the criteria required during a Duabert or Havner challenge.
EXPERT in TOXICOLOGY, FORENSIC SCIENCE, GENETICS
Paul Goldstein, Ph.D.
(915) 276-1910
(Fax: 866-263-4960)
(e-mail: drpaulgoldstein@yahoo.com)
Areas of Expertise: Toxic Torts, DNA Testing,
Environmental Exposure, DUI and
Sobriety Testing, Drug Interactions,
Forensic Science, Reproductive
Toxicology, Teratogens, Food Poisoning
Experience: Toxicology, Forensic Science, Genetics
Education: Ph.D., York Univ. 1977
M.S., Ohio Univ. 1975
B.S., SUNY at Albany, 1973
Publications: Over 60 in specialty areas
Special Board: National Council of Lawyers
and Scientists
(1994-1997)(ABA and AAAS)
Amercian Society of Crime Lab Directors
(Academic Affiliate, current)
Specialty, Society of Toxicology (current)
Society American Society of Cell Biology
Boards, and National Science Foundation
Recognition National Institute of Health
New York Academy of Sciences
Distinguished Achievement Award in
Research Univ. of Texas (1995)
Testimony: Court Appearances, Depositions
Services: Expert Witness
Case Preparation Consultant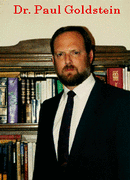 State and Federal Court Experience
Dr. Goldstein has testified in many State and Federal courts in areas including Toxic Mold, E. coli, Salmonella, HACCP Regulations, FSIS Guidelines, Environmental Exposure, Pharmaceutical Interactions, and all aspects of Forensic Science and DNA analysis. He is also an expert on DUI and Field Sobriety tests.